Little Free Library Build – May 18, 2022
---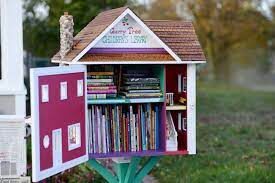 Date: Wednesday May 18, 2022
Time: 5:00 pm - 7:00 pm
Location: Ames Public Library
515 Douglas Ave. | Ames, IA 50010
Event Details:
FUEL is building two Little Free Libraries to be placed in communities in Story County. Come help us build a wooden library from beginning to end, or help put together one from a kit! Options for all talent levels! We'll be hosting a book drive to come, to fill up the libraries once they are installed. We're excited to help promote the love of learning to people throughout the county.
FUEL Board President Evan's grandpa has generously offered us his workshop to build the libraries. Workshop located at 4738 215th Street in Ames.
This is also our regularly scheduled committee meeting day and we will be building here INSTEAD of meeting at Scooters at 4pm.
Add to your Calendar:
webcal